A Look at Faith: Beautifully Destitute & Pleasing to God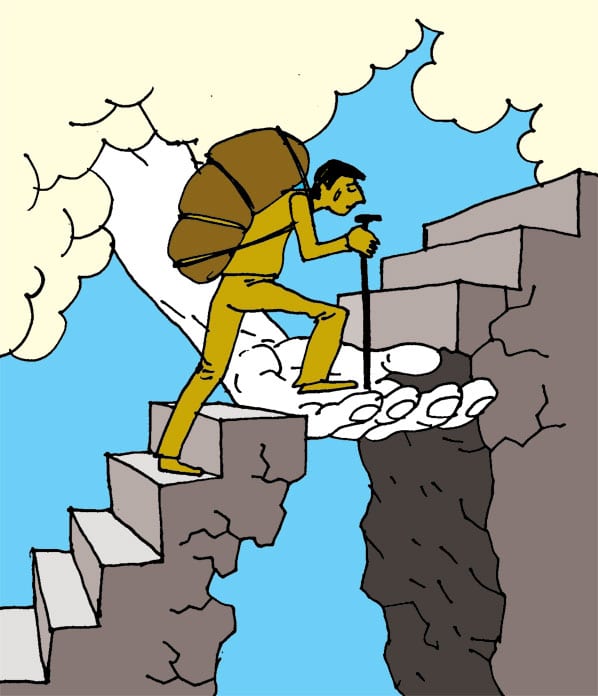 The best Christian you'll ever meet might be the homeless guy you ignore and despise at Exit #8 on your way to work. She might be the down syndrome child that irritates you with her guttural outbursts during the sermon. He might be the tatted, long-haired, artsy-fartsy moron neighbor who drinks too much. When it comes to recognizing people of faith, we're probably clueless, though we may think we're keenly insightful. 
[featured-image single_newwindow="false"]
Euphrosynos was a disrespected, simple monastery cook. One night, the monastery's abbot had a dream of heavenly paradise. Surprisingly, there he met Euphrosynos who gave him three beautiful apples from a tree. Upon awakening he found three apples lying on his pillow much to his amazement. He located Euphrosynos and asked him where he'd been last night. He responded, "Where you were, Father." The abbot was astonished. How is it possible that this despised yet humble cook could actually be a saint? 
Reading scripture and the lives of saints in church history, I'm beginning to see that holy people are formed out of struggle. They step into the unknown and deal with the challenges of uncertainty and conflict. They persevere in their fears and pain as they experience God. Knowing God seems to be enough to carry them as they advance through carnage and battle inner demons. 
These warriors are described in Hebrews 11: 
Now faith is the assurance of things hoped for, the conviction of things not seen (v. 1). (Be careful not to interpret "assurance" and "conviction" as what you think should happen.) 
And without faith it is impossible to please [God}, for whoever would draw near to God must believe that he exists and that he rewards those who seek him (v. 6). 
These all died in faith, not having received the things promised, but having seen them and greeted them from afar, and having acknowledged that they were strangers and exiles on the earth. For people who speak thus make it clear that they are seeking a homeland.…But as it is, they desire a better country, that is, a heavenly one (vv. 13-16).  
Some were tortured, refusing to accept release, so that they might rise again to a better life. Others suffered mocking and flogging, even chains and imprisonment. They were stoned, they were sawn in two, they were tempted, they were killed with the sword. They went about in skins of sheep and goats, destitute, afflicted, mistreated — of whom the world is not worthy — wandering in deserts and mountains, and in dens and caves of the earth. And all these, though commended through their faith, did not receive what was promised, since God had provided something better for us, that apart from us they should not be made perfect (vv. 35-40). 
The miracle was not God getting them out of their suffering/affliction/mistreatment but God being present with them no matter how long or how deep the pain. Many were never rescued. Yet, they knew God, becoming aware of Him, even when God seemed nowhere to be found. Knowing God was their reward.  
Where did we get the idea that real faith means we believe God will always rescue us, take us out of trouble, free us from pain, heal our physical ailments, and make our lives better? 
Modern Person of Faith
I don't know what this kind of Hebrews 11 person would actually look like today. But I have a sneaking suspicion our modern Christian sensibilities would find him/her off-putting. Our family faith album is filled with smiling, clean-cut, healthy-looking people who don't seem to have a care in the world. God forbid a photobomb by a destitute and tortured grandchild. 
Though held up as great examples of the faith, these kinds of people wouldn't make it past the greeter at your church. By the look of things, they would not be considered Christians at all – odd clothing, destitute, beat down, tormented, plagued, disorderly, foul-smelling, sick. It doesn't look like they have any faith in God at all or they wouldn't be in their particular predicament, right? 
Some churches don't allow children into their morning service let alone someone like this. I've heard of ushers not allowing an autistic child into a service because he would be too disruptive. 
What kind of screwed-up understanding of a person's faith is this? 
Imagine a Christian guy's response to news of stage four colon cancer. On Facebook he writes, "Yesterday I got the news that I have colon cancer. But, I'm trusting God. Nothing is a surprise to him. It's all OK. God's got this! No worries! God is good all the time!" His friends might respond, "What incredible faith!"
But, doesn't this actually come off as a form of denial? "Folks, it's not really bad news because I have a rock-solid belief in God." Sounds to me like his faith is in his faith. 
What if he'd written: "Yesterday I got the news I have stage four colon cancer. I'm devastated and not handling this well. I'm emotionally and physically spent and yet this cancer journey has just begun. I don't know how I'm going to make it. I need God now more than ever. Without His mercy and help I have no hope. I'm pitiful. But God is able."
This sounds more like genuine faith in God. "Folks, I don't have what it takes in this situation, but God does."   
Struggle On…
Take an honest look at Hebrews 11 and compare the kind of faith these folks have to your own. Do you see how destitute you really are and how badly you need God's mercy? 
The Christian life is the journey into a more genuine faith in God. The struggle to believe God is a good struggle. Don't be discouraged if you think your faith is small. The amount of faith you have is not the issue. The source and object of faith is the issue. 
Keep looking to Jesus, the author and perfecter of the faith (Hebrews 12.2).
Without faith we cannot please God. (Hebrews 11.6)
If whatever we do is not in faith, we sin. (Romans 14.23)
I believe. Help my unbelief. (Mark 9.24)
Looking at these scriptural reminders, we've got a long ways to go on this journey.
Trust God now…then now…then now. Each moment of every second. No matter what's happening to you, around you, or in you.
It may not be all that impresive, but at least it's real. 
Dr. K