Here Are Some Ways To Benefit From and Practice Waiting On God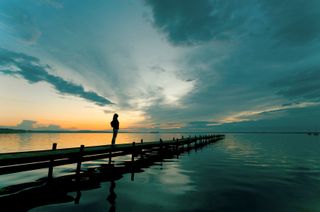 What's the point of the waiting on God? Why do scripture writers tell us to "wait on the Lord?" Is it really that important? When you experience what it means to "wait on the Lord," you discover how significant this action is to your spiritual life. So significant, that you can't live without it. 
[featured-image single_newwindow="false"]
In the midst of instructions on how to navigate our way through a messed-up world, the Psalmist David writes: "Be still before the Lord and wait patiently for him" (Psalm 37.7). 
When dealing with rejection and adversaries, "Wait on the Lord; be strong, and let your heart take courage; wait on the Lord!" (Psalm 27.14) 
After a rich description of God's steadfastness and strength, we are told: "they who wait on the Lord shall renew their strength; they shall mount up with wings like eagles; they shall run and not be weary; they shall walk and not faint" (Isaiah 40.31). 
In describing a vibrant relationship with God, the Psalmist sings: "I waited patiently for the Lord; and He inclined to me, and heard my cry. He also brought me up out of a horrible pit. Out of the miry clay, and set my feet upon a rock, and established my steps. He has put a new song in my mouth – praise to our God; many will see it and fear. And will trust in the Lord." (Psalm 40.1-3)
From these verses and the experiences of real life, learn:                                                            
1. In times of instability, weakness, or despair sit with God. Go to spot on the beach, a bench by a stream, a log in the forest, a rock by the lake, a chair in a garden, a swing at the park, a rocker on your porch – a place not often visited or a familiar place – and commune with God. Let Him fill you with His strength and courage to take your next step.
I have been trying to do this since an experience of this type with God in Montego Bay, Jamaica when 16 years old. Feeling isolated, disoriented, and empty, I sat on our veranda overlooking the sparkling blue Caribbean. There, God began altering and strengthening my heart profoundly. Over the last 41 years, God has continued this kind of work (I'm a really slow learner) in various settings. Taking time, beyond the normal, to be with God gives you what you need to journey forward.   
2. When making major decisions, slow down and walk with God as you discern what to do. Commune with God as you seek wise counsel, listening quietly for His guidance. Wait patiently until you know the direction you are to take. 
Recently, I've had the privilege of working with people in transition. In every case, they want to know "God's will" quickly so they can move on with their life. In every case however, God has other ideas. These transitions are more about shaping their heart in relationship to God than in finding their next "job" or ministry. This always requires patient waiting. So hard. So necessary. 
3. Every day seek God in solitude and stillness developing a quiet heart, controlled emotions, and sober thoughts. Learn to live in that kind of quietness in the chaos of the day. Engage whatever comes your way in the quiet confidence which God instills by His presence in you. 
You who are journeying with me on this "UnCommon Journey" know that this is a constant theme of my writings. It's constant because it is the DNA of life with God according to scripture and the experiences of saintly men and women from the beginning of time.
Real life is about living in union with God. Waiting on God is learning to live in union with Him. 
"Be still before the Lord; wait patiently for Him." 
Do you struggle with waiting on the Lord? How will you apply to your life what you read in this post today? Share below.
Dr. K