Three Reasons "ME" Is At The Core Of The Participatory Paradigm
"Do you have a personal relationship with God?" Good evangelicals have heard and asked this question many times. The "lost" may enter this relationship by grace and faith only to find it to be something else. Ah-ha! The ol' bait and switch! They enter for relationship but discover this "thing" with God is more about doing work, following rules, knowing dogma, studying the bible, or caring about social agendas. Unfortunately, many of these same people do not stop to reflect on their actual relationship with God. They assume they know how to relate to God. I'm challenging some of these assumptions with the Participatory Paradigm.
Today, two models of relating to God are presented. I'm challenging them by focusing on the "ME" section of the Participatory Paradigm.
 [gview file="https://communewithgod.org/wp-content/uploads/2017/01/Participatory-Paradigm-II.pdf"]
Three Reasons For Including "ME" at the Core      
1. To emphasize the reality that first and above all, core to life and everything dear to ME, is God's union with ME and MY union with God. To believe that God is just one more "piece of the pie," added among the many other "things" in life, is to diminish the Almighty to my level. It lets me control God by keeping Him in His place along side all the other stuff I've got going. He's as important as my family, my work, my recreation, and my friendships, but not more important. I can do lots of things "apart from Christ." "Seeking first the kingdom of God" is for the weirdo's, pastors, missionaries, and other zealots. I'm going to heaven! I'm good!
Here we have God among many (competing) gods.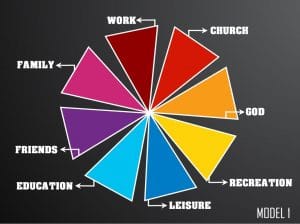 To counter this "stinkin' thinkin'," I'm trying to show the core reality of God's life in us and our life in Him. All reality flows out of that one reality.
2. To counteract those who would say, "It's all about God," as if there is no place in a theological discussion for anything else. Of course, this makes no sense. God became flesh in order to provide the way of salvation so that humanity could be united with God. There is certainly much about God that we need to know about and to experience. But after all, He did create human beings to be in communion with Himself. For salvation (the whole of the Christian life) to find its fullness, at the center must be God and "ME" in relationship.  
Here we have God the object of admiration, worship, study, and ideas. 
3. To remind me that The Holy Trinity invades every faculty of ME, my being – mind, soul, heart, and body. And that every faculty is being renewed so that it may experience the "energy" of God more fully day by day. In this way, I "live, move, and have my being." So then, I am enabled to conduct my life in continual repentance, renewal, reconciliation, and righteousness (none of it of my own doing). My whole being is being saved. That's what is happening to "ME."
Which one of these diagrams best reflects your understanding of "God and you" in the Christian life? In what ways are you being challenged to think differently? Share below. 
Dr. K 
P.S. I want to thank my friend, Mike, for his excellent work on these two diagrams. You can see the difference between someone who knows what he's doing (Mike) and one who doesn't (me) as it relates to computer graphics.
P.P.S. In the next post I'll present some new developments in the PP diagram. I'm excited about better ways to visualize our participation in the life of the Trinity.